Visions of Santa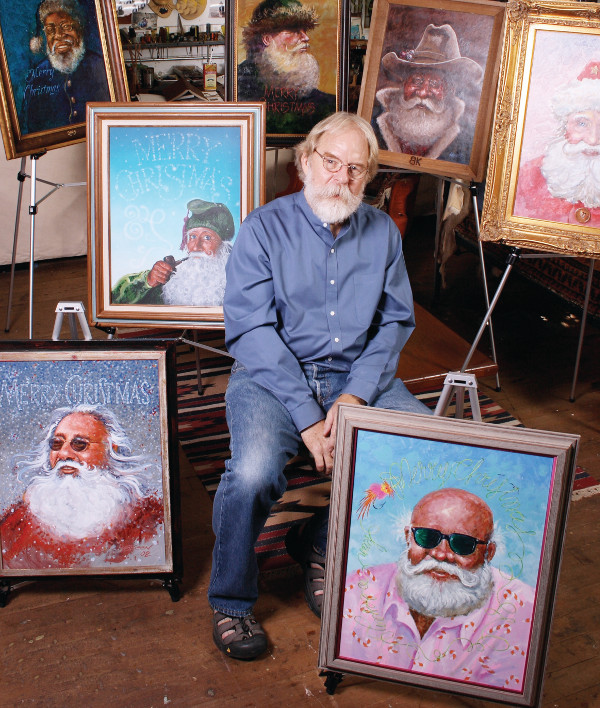 A one-of-a-kind exhibit containing 42 unique images of Santa Claus, painted one per year since 1974.

What began as an explanation about an art method evolved into an annual tradition. Billy L. Keen was demonstrating to a co-worker how the Old Master painters used a method called underpainting to achieve flesh tones. Because the season was Christmas, Keen decided to use Santa Claus as the subject. Keen hung the painting in the room of his one-year old son. The following year he painted a new Santa for his second son. By the third year, it seemed like a "neat thing to do." After that, it became a tradition continuing through today.

The body of work has been exhibited far and wide at the holiday season, and covered on television's Texas Country Reporter in 2003 when there were only 30 paintings. In 2015, the City of Schertz, will host a reception to meet the artist and unveil this year's image.

What Others are Saying...
"Through Billy Keen's works, we see the spirit of Santa lives in ordinary man...an inspiration… unique in both substance and style."

Bob Phillips
Texas Country Reporter

---
"A fabulous show...this exhibition has been a true delight for our many patrons."

John Aasp, Curator,
Rockport Center for The Arts

---
"A profound look into the many eyes of Santa"

Fritz Ozuna,
Neon artist

---
"I believe that everyone has a memory of Christmas that they hold close to their heart and will never forget! Billy Keen's VISIONS OF SANTA exhibition at the Smithsonian Museum of Art & Music in New Braunfels, Texas, was one of those cherished memories for me. The exhibit was masterfully presented to over a thousand visitors, each one, mesmerized by the chronology of the work, touched by the artist's spirit and technical mastery of the paint. The body of work is a splendid documentary of a father's commitment to his child and that of his life as the painter. He has portrayed himself, captured and expressed his life for everyone to feel, wonder and enjoy. If you are perceptive and get to know Billy Keen, then you will truly see the spirit of Santa in this exhibition."

Charles R. Gallagher,
Founder, Diverse Works, Houston, Texas, former Executive Director, The Museum of Art & Music,
New Braunfels, Texas, a Smithsonian Affiliate

---
...a playful and moving work, so exciting to experience… marvelously executed...

Judy Godfrey,
former President & CEO,
The Grace Museum, Abilene

---
Exhibitions in Texas
2013
Coker United Methodist Church, San Antonio
2012
Museum of the Southwest, Midland
2001
Corpus Christi Center for The Arts
2010
Museum of the Southwest, Midland
2009
Museum of the Southwest, Midland
2008
City of Schertz Civic Center
2007
Rockport Center for The Arts
2006

City of Schertz Civic Center

2005
San Angelo Christmas at Old Fort Concho
2004
Television's Texas Country Reporter
2003
Smithsonian Museum of Art & Music,
New Braunfels
2002
Smithsonian Museum of Art & Music,
New Braunfels
2001
Southwest Texas Conference United
Methodist Center, San Antonio
2000
Private Showing, Schertz
1999
City Public Library, Schertz
1998
Wichita Falls Museum & Art Center
1996
San Antonio Art League & Museum
1995
The Bright Shawl Junior League, San Antonio
1994
First United Methodist Church, Seguin
1991
San Antonio Little Theater
1990
Windcrest United Methodist Church
1988
San Antonio Little Theater
1985
U.S. Air Force Recruiting Service Holiday
Celebration, Randolph Air Force Base
1984
Schertz United Methodist Church
​Bookings
Visions of Santa
is available to museums and not-for-profit organizations. For scheduling and details, contact
billylkeen@gmail.com